'Tis the season to be jolly…..and satisfy your holiday cravings! Here are some events you won't want to miss:
1. Macy's Thanksgiving Day Parade
Check out the 87th Macy's Thanksgiving Day Parade extravaganza, featuring iconic giant balloons, celebrity appearances, and world-class marching bands, among other attractions. The parade begins at W 77th St and Central Park West and ends at Macy's prime location at W 34th St and 6th Ave.
2. Kettle of Fish Thanksgiving Dinner
The owner of this NYC bar is Patrick Daley, an avid Green Bay Packers fan, and on Thanksgiving, Kettle of Fish serves a catered holiday dinner. In a past interview, Daley has been quoted as saying, "We get a dozen 20-pound turkeys if there's a Packer game. Without one … maybe six."
Address: 59 Christopher St, Manhattan, NY 10014
3. Union Square Holiday Market
Some say that Union Square is the center of relaxation. Some say that it is the center of the street arts. However, one cannot deny the numerous shopping opportunities available at this historic area. More than 100 red-and-white booths have filled Union Square Park for its 20th-annual holiday market that is taking place right now!
4. GVCCC Chelsea Bazaar
If your holiday shopping senses are already tingling, make sure to drop by GVCCC's Chelsea Bazaar on Dec 1st from 11:00 AM-5:00 PM. Over 60 vendors will be present to cater to your diverse tastes, ranging from burritos to children's clothing to pet care to carefully handmade jewelry, and much more. Support small businesses by enjoy shopping, samples, tastings, and free giveaways! For more information, click HERE.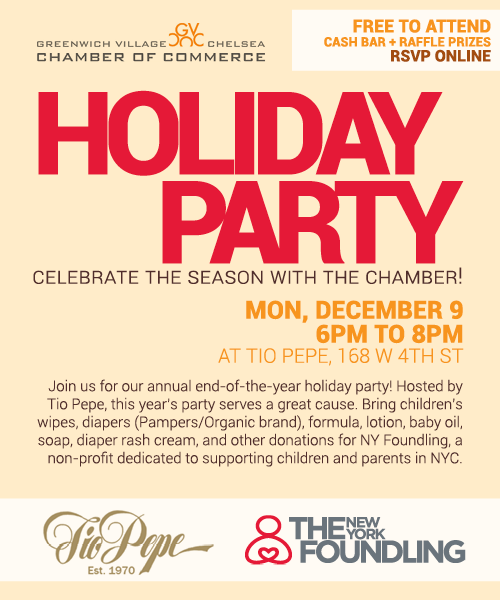 5. GVCCC Holiday Party
What better way to spend the following week celebrating the season than by mingling with other GVCCC members at the annual-end of the year Holiday Party on Dec 9th?  Additionally, all donations given to this event will support the NY Foundling, a non-profit organization dedicated to supporting parents and children in NYC. For more information, click HERE.